May 12th, 2017

Blog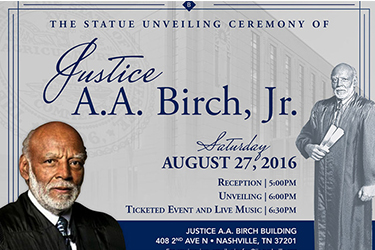 Event Honoring Chief Justice A.A. Birch Receives Its Own Honor
In 2016, the Nashville Bar Association (NBA), the Nashville Bar Foundation (NBF) along with the Justice A.A. Birch Building committee had an opportunity to celebrate an esteemed member of the Nashville legal community, state Chief Justice Adolpho A. Birch, Jr. with the unveiling of a statue, building re-dedication and posthumous celebration of his achievements. Birch, served 37 years as a judicial stalwart. He was the only person in Tennessee history to serve at every level of the state's judiciary and the first African American to serve in each position. On August 27, 2016 the Justice A. A. Birch Jr. building was re-dedicated and a statue, sculpted in Birch's likeness, was unveiled in front of the courthouse square to honor his lifetime of achievements.
The statue was sculpted by world renowned artist, Brian Hanlon. The re-dedication program included The Honorable Megan Barry Mayor, Metropolitan Nashville Davidson County, Anne Holt (WKRN-Channel 2 Anchor) as emcee, Judge Richard Dinkins, Judge Monte Watkins, Vivian Wilhoite and Ludye Wallace (who were instrumental in having the building named after Birch in 2006) and moving words from his son, Adolfo A. Birch, III.
After the program and the statue unveiling the Birch Building was turned into an event space for the very first time with food and live music for over 150 persons in attendance. The program drew in community and business leaders, inspiring attendees to achieve greatness.
Experience Provides Results
duGard Communications (dGC) handled Public Relations and Event Planning for the entire event series, which included powerful and moving speeches that inspired a number of great comments and kudos from community, judicial, legal and business leaders as well as the Birch family. dGC's efforts garnered coverage by the local affiliates of ABC, NBC, CBS and FOX as well as The Tennessean, local and national minority print publications and the General Sessions Court included a special section in its annual report to celebrate and further commemorate the events.
Received an Award of Merit during the 2017 Public Relations Society of America – Nashville Chapter's Parthenon Awards.