June 1st, 2016

Blog Client News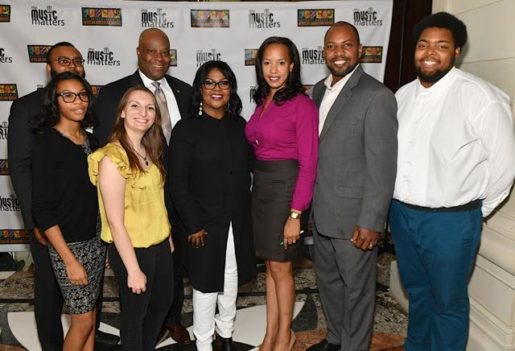 Museum announced first-ever digital exhibition and additional financial progress
June is African American Music Appreciation Month (Black Music Month) as declared by President Barack Obama and The National Museum of African American Music (NMAAM) announced additional, and significant, financial support along with its new Rivers of Rhythm® Digital Exhibition on Thursday, June 16, 2016. The first-of-its-kind digital exhibition was revealed by museum officials and award-winning Gospel artist, CeCe Winans, who was recently announced as one of NMAAM's National Chairs. The museum hosted a press conference at Belmont University in the lobby of the Curb College of Entertainment and Music Business.
As a National Chair, Ms. Winans focuses her efforts for NMAAM specifically around the Gospel genre and serves as an active ambassador, providing support in the form of appearances and access to her professional network for the organization. She, along with Darius Rucker, Keb'Mo' and India.Arie were announced earlier in the year and are actively engaged in the project. All are prominently featured in the Rivers of Rhythm® Digital Exhibition (RofR).
"With over 50 genres identified as created or influenced by African Americans, RofR is an interactive tool that depicts the ebb and flow of music using a web-based platform to tell the Museum's story even before our doors open," said H. Beecher Hicks, III, NMAAM's president and CEO. "We're excited to provide an outline of the history, connections and impact that American artists and genres have around the world."
NMAAM also announced a $250,000 donation, from Belmont, to the organization in support of this digital exhibition.
"Belmont has an outstanding reputation for fostering and nurturing top musical talent so supporting this project is a perfect fit for our campus," said Dr. Bob Fisher, president of Belmont University. "What is even more important is that, this digital exhibition reflects another step in Belmont's efforts to become increasingly more diverse and broadly reflective of our local and global communities."
Ms. Winans, Dr. Bob Fisher, president of Belmont University and NMAAM board member, along with NMAAM's president & CEO, H. Beecher Hicks, III, participated in the press conference. The announcement was a live media event that was live-streamed on Facebook via @BelmontUniv.
About CeCe WInans:
CeCe Winans is a multi-talented singer, who has won numerous awards, including ten GRAMMY® Awards and seven Stellar Awards. She has sold twelve million records worldwide. CeCe is also the best-selling female gospel artist of all time. CeCe's collection of Top Ten R&B radio hits include "Count On Me," her duet with Whitney Houston, from the Waiting to Exhale soundtrack. The single was certified Gold in the US and reached No. 8 on the Billboard Hot 100, No. 4 on the Adult Contemporary chart and No. 8 on the Billboard R&B Singles charts.
View the press release here.