November 12th, 2022

Blog
duGard Communications Presents
The Beat Won't Stop: Gratitude Ceremony
Clinton C. Boyd, Jr.
When a manager pushes you to be better, you better heed the call (like I was still on line)
That yellow jacket, the laugh and the thoroughness shaped me for life.
Clint was ambitious, focused and methodical. Already a success in the pharma sales world, he took a bet on four guys starting a consulting firm and hopped over to the entrepreneurial space becoming the VP of Subrogation at Innovative Recovery Services, Inc. (IRSI). When Reggie left me (us) for South Africa, I was aligned to report to him and Marketing was added to his title.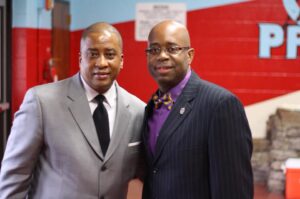 Clint brought process to the table…had me thinking about marketing in a way I'd never thought of, technically…we were talking strategy, not about how to build a website and why it was important, which we I hadn't done in my career at that point. I was solely in 'check the box' space. But Clint pushed me to see a bigger picture, be accountable and ensure how we represented ourselves as a company. He had a certain walk, a certain approach, a certain thought process and it rubbed off on me (probably each of us), for sure. We all knew he was going to be walking down that long hallway with a look of focused intention and ready to pull out the erase board markers. But his laugh didn't match his swagger, this high pitched hee-hee-hee with full shoulder movement, and looking back on that small action makes me laugh. His influence even impacted past employees. McKinley Merritt repeated a Clint-ism in the back seat of her mother's car, one day, responding to something surprising to her…'what the heck, I mean, what THA hell!?!' comes out of her mouth and as the story's told, all Pamela could do was laugh…and I think this is actually what Jordan Boyd said in the back seat of his car too! I need to check on which kid said this!! This story is one that we've told many times over the years because it's just so funny as to how his words were so impactful.
Clint is the first person we lost. Clint is the first manager that invested in me as a person. Clint drove me nuts. He pushed me, challenged me, called me on my stuff. He gave the best prayer at church one day and the Deacon's, to this day, have the "Clint Boyd Rule" – you can't pray over 3 minutes. This prayer was long, but powerful and the Lord was truly speaking through him…it's like the whole church melted away and he was just in conversation with the Lord. It makes me cry even to this day.
I'm grateful to have known Clint. He shaped my life. Elaine, thank you for graciously allowing us to still be part of your family's fabric…I miss Clint terribly.