October 3rd, 2016

Blog
This month, dGC is honored to share and celebrate Hispanic Heritage Month from September 15th through October 15th. Every day this week, a dGC team member will share a personal story about people/brands that we admire
Up first, dGC'er Allie LaCombe takes a closer look at the life of José Fernandez to feature his impact and baseball legacy. As a sports fanatic, she felt drawn to José's story and pushed us to think about individuals to share thoughts with during Hispanic Heritage Month.
Sports can shape a person, city and country . . . quite frankly, it's amazing how a single play or person can impact so many. On and off the field/court/ice, athletes of all ages are stepping on the "playing ground" for the first time on a daily basis. Athletes, of all races, are participating in the beauty of sport. I believe that sport has a way of unifying people through simple baseball plays, hockey super stars, or football giants we go further than an ESPN SportsCenter Top 10 plays everyday!
When I think of an athlete that embodies this, who has made an impact on the sports community, José Fernandez strikes a cord with me. José was a Miami Marlins right-handed pitcher and he passed away recently. His legacy can be felt throughout the baseball community and off the field too.
His infectious smile, seen in the majority of his MLB photos, reminds me that his influence and life is not reduced to a quick Google search. Sports remind me of my teammates who made me a better person by carrying the team with their 'love of the game' combined with a joyous spirit. After hearing about José's tragic boat crash, I was compelled to learn more about him. Aside from his notorious NL Rookie of the Month and Rookie of the Year awards in 2013 and a promising pitching career, I quickly realized that he is much more than a powerful pitcher with a pretty smile. What I didn't know about José, that makes his story even more compelling, are the following facts:
After doing more research on José, there was a common denominator that continues to make his death and legacy more chilling: his love for life and love for baseball overlapped each other. Many professional athletes can be closed off and cold, especially to the media. However, Fernanadez was one of the most well-liked players in the MLB by both media and fans. Rarely does a spirit like that arise in professional sports, let alone carry a team's image and persona. By all appearances, José exuberated personality traits and characteristics parallel to people in my life who I gravitate toward.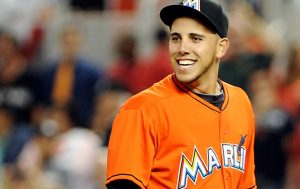 While José Fernandez was an outstanding baseball player, he defied so many other odds: childhood cancer, attempts at making it to the United States to pursue his dream, leaving beloved grandmother behind in Cuba and being labeled as an infamous Cuban, professional baseball player. His spirit will always be with his family, teammates, and the city of Miami; his influence will be celebrated by sports fans, like me, and countless others around the world.