June 30th, 2017

Client News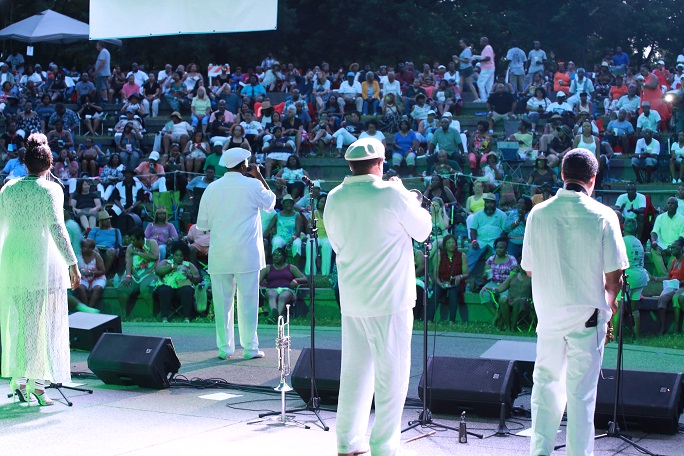 Historical Impact of Jazz and Blues Celebrated D
uring 2-day Festival in Music City
Jefferson Street United Merchants Partnership (J.U.M.P), welcomed more than 4,000 people to the 17th annual Jefferson Street Jazz & Blues Festival (JJBF) weekend. The fun kicked off with the "Bridging the Gap: New Face, New Place" Mixer and Block Party in downtown Nashville on 5th Avenue South on Friday, June 16. Festivities continued on Saturday, June 17 with the main event hosted at the Bicentennial Capitol Mall State Park, featuring some of Nashville's favorite local artists as well as national recording artists Shirley Murdock and Rose Royce.
"This is where downtown Nashville meets uptown Jefferson Street," explained Sharon Hurt, president and CEO of the J.U.M.P. "Our mission, with this festival, is to bring the community together, strengthen and provide economic impact, as well as bolster awareness and exposure to the historical importance of the north Nashville corridor. Jefferson Street is Nashville's original music district, where it all took place."
A venue change for this year's 15th annual "Bridging the Gap Mixer: New Face, New Place" created a SoBro Block Party atmosphere that included performances from local favorites—William Davenport and Wendell "Bizz" Bigsby-Church & Everyday People—as well as two djs, live music, and a variety of food and retail vendors. Nearly 1,500 people danced in the streets, many of them new faces spilling out from the Country Music Hall of Fame and the Omni Hotel, all excited to join the party that gave them an alternative to country music-themed events usually hosted in the area. Also new to the Friday event was the inaugural JJBF Hot Chicken Contest, judged by the honorable Howard Gentry and acclaimed chef Darryl Dinning, who named Erica's Touch of Taste Food Truck as the contest's winner.
Jazz and Blues Kicked-off the Event, Smooth R&B Closed-out the Show
Saturday's main event at Bicentennial Mall kicked off with a high energy performance from Rahsaan Barber and included Bayou & the Degradables, Herschel Bailey and Paula Chavis.
"Good food, good music, good music, good people, for a good time. People came from all over…and we continue to experience increases in attendance each year," said Hurt.
The annual event garners much support from the community. Sponsors included the Nashville Convention and Visitors Corporation, United Healthcare, Coca-Cola Consolidated, TN State Department of Tourism, HCA/TriStar, Ajax Turner/Budweiser, Xfinity, Kroger, Lyft, Citizen's Bank, AT&T, U-Know Catering, Don Hardin Group, Hall Strategies, Davidson County Sheriff's Department, Workforce Development, and BSU Roofing.
"It is the one event you can depend on to bring Nashville together to enjoy great music and a good time. My 92 year old mother still comes out with my 8 year old and we all have fun," said Criminal Court Clerk, Howard Gentry. "People come from all over Middle Tennessee to this event that represents the spirit of Jefferson Street. That's the core and that is what makes it so great!"
The 17th annual Jefferson Street Blues and Jazz fest kicks off tonight. Get your tickets to groove this weekend 🎷🎺 https://t.co/jK3XHB6q33 pic.twitter.com/prtOYidnpn

— Tennessee Vacation (@TNVacation) June 16, 2017