November 12th, 2022

Blog
duGard Communications Presents
The Beat Won't Stop: Gratitude Ceremony
Margaret Alexandria Rose Campbelle
A teacher and librarian first, this life-long socialite knew the magic of positioning, promoting and publicizing her family.
Her Father's drive influenced the unbeknownst PR strategist she'd become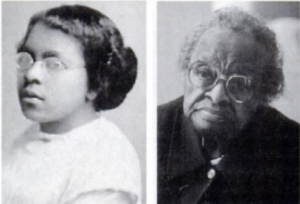 Grandmother Campbelle was a formidable woman. Living to be 108, she saw and lived through a lot…including the opportunity to attend her 80th class reunion at Clark Atlanta University.
She knew the power of the press, pen and amplification before any of those phrases were a big deal and she was a publicist before her time. Even after dealing with adversity, she marched ahead and ruled the family like there was no tomorrow, ensuring that milestones were documented and celebrated.
In my casual conversations with her, later in life, she revealed that she wanted to be an AKA, but had the Imperial Coterie and several other organizations to keep her occupied, so that was that. From high society teas, events and parties, she made sure that every event she attended, led or touched was covered in whatever was the press at the time. The epitome of her work was to have her son, Attorney RBJ Campbelle, Jr. who graduated as the first African American from the University of Tennessee's Law School in 1956, featured and elevated to coverage in The Tennessean. Hitting JET Magazine in 1994was just one more feature for her. Though mostly dependent on a wheelchair, during commencement ceremonies, she proudly walked (with assistance from her granddaughters, Jeanne and Margaret) to her seat and then the podium at age 108 to accept special commendation from former CAU President,Thomas W. Cole, Jr. and to share the stage with Alexis Herman during commencement.
It was my dream to be accepted at CAU. Unfortunately, I received my acceptance letter two weeks after I started at North Carolina Central University. I did end up in the right place, but it was important to me to carry on my grandmother's legacy.
At this point in my life, I think she'd be proud and feel like I've lived up to her standard…and legacy.