September 27th, 2018

Blog News
At dGC it's important to give back and support the growth of future PR leaders. We're constantly amazed at the talent of young people and it helps us stay up-to-date at the same time. This Fall, we are happy to host two interns, one of which is featured below.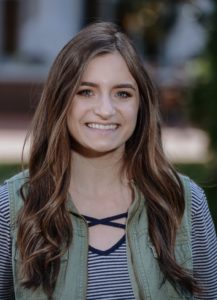 Meet Kayla Guglielmo, a senior at Belmont University majoring in public relations and minoring in corporate communication. Her passion for all things communication, design and social media is what drove her to declare a major in public relations. We welcome Kayla to the dGC Team and look forward to her contribution to our team. She has jumped in, already, gaining hands on experience with us, attending a client pitch, press conference and developing content for multiple platforms.
When asked what she has learned so far, Kayla said that she has learned the importance of building and maintaining relationships. In her classes, the importance of relationships in the public relations field had always been stressed. However, it wasn't until she began her internship that she realized relationships with clients, reporters and the community are the backbone of public relations and necessary…in order to succeed.
What is your favorite part of PR, so far?
My favorite part of PR so far is that it is all around us. Almost everything in our surroundings has been shaped by public relations in some way and I think that it is so fascinating that a profession that not many people are aware of is so prominent.
What have you applied from the classroom into your internship experience?
One thing that I learned in my classes and have been able to apply in my internship is how important it is to be knowledgeable and well researched on topics that you are working with so that you can be well informed and able to participate in conversations. I also have done a lot of writing, so, being able to bring the writing skills that I have learned in the classroom has been useful.
How often do you catch yourself dreaming about strategy or content?
I tend to be a daydreamer and I also find inspiration for strategy and content through social media a lot so I am thinking about these things pretty often. Through following different organizations or blogs, I'm able to get inspired by what they are doing and how they are doing it. I also catch myself gaining a lot of inspiration for content through interior design whether that be color schemes, artwork, or how the design flows and is framed.
What is your ideal position you'd like to attain, upon graduation?
My ideal position after graduation would be at a small PR firm working in branding, social media or as an account executive. I would love to work in the food and drink industry, I think it would combine my passion of cooking and spending time with loved ones with my passions in the public relations and communication fields.
PR types are always passionate about what we do. What have you become excited about (learning or developing) during your internship?
I think I'm most excited getting the opportunity to step outside of my comfort zone and do things that I haven't done before. Before I started my internship, I had never pitched to the media and after getting to do pitches, I have learned to appreciate all of the work that goes into something that seems so simple and getting to work on things that require critical thinking and creativity are what excite me the most.
Favorite color:
It depends on what it is but, I love warmer colors such as olive green, copper and gold but I am also a big fan of navy blue and yellow!
Favorite quote to live by:
My favorite quote is actually a Bible verse from Psalms 46:10 that says, "Be still, and know that I am God; I will be exalted among the nations, I will be exalted in the earth." It's a daily reminder to me that sometimes I just need to be still because everything is going to get figured out. I have a bunch of quotes that I love but this is one that I can always apply to my life no matter where I am.
Wildest thing you've ever done that is/isn't related to your interest in PR:
I play it pretty safe but one of the craziest things that I think I've done is declare a major that I had never heard of before! I always wanted to be a teacher but, during freshman registration when they called the education majors, for some reason I didn't get up and go with them. Afterwards, I kinda had this freak out moment of, "Oh no, what now?" so, I sat there for a while and then they called PR majors, I stood up and went with them like that was my major all along. At this point, I had never even heard of public relations but I signed up for an intro class and I have stuck with it since and have fallen in love with PR. I like to say that I was lead to PR and it's what I was intended to pursue a career in but I needed that push and brief moment of "what have I done?" in order to get here.
Person you admire most (not including Oprah or your Mom/Parents):
A person that I admire most is Blake Lively! I think she's an amazing actor but I look up to her mostly because she carries herself with so much poise and grace but is also someone who keeps it real and is genuine. She also openly stands up and speaks out against injustices and uses her voice to generate change on social media as well as during interviews which I think is admirable and important to have in a role model.