April 5th, 2021

Client News

Campaign to Reduce Vaccine Hesitancy Offers Up-to-Date Medical Information from Trusted Local Providers in Spanish and English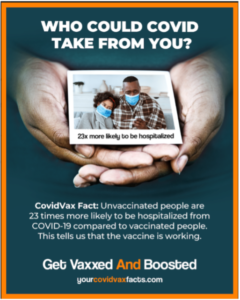 Nashville, TN (date) – Meharry Medical College and St. Jude Children's Research Hospital announced today launch of an online portal (YourCovidVaxFacts.com) that provides up-to-date information on vaccine safety. The website offers answers to common COVID-19 vaccine questions in both English and Spanish. In Tennessee 54% of residents are fully vaccinated, below the national average, while only 11.6% of Black residents and 5.4% of Hispanic/Latino residents are fully vaccinated. In Davidson County, 444,861 residents are fully vaccinated, 65% of the population.
Development of YourCovidVaxFacts.com was led by Dr. Jennifer Cunningham-Erves, Meharry Medical College; Dr. Jamaine Davis, Meharry Medical College; Maureen Sanderson, Meharry Medical College; and Dr. Heather Brandt, St. Jude Children's Research Hospital. The team partnered with key stakeholders to ensure community views guided development of the online resources and outreach campaign targeting underserved populations.
Questions answered on the bilingual website include vaccine development concerns, safety concerns impacting a variety of diverse populations, and the effectiveness of the three and four-shot vaccine regiment. YourCovidVaxFacts.com visitors do not enter any personal information to use the website, ensuring protection of personal information.
Bilingual, culturally appropriate advertising supporting the launch of YourCovidVaxFacts.com is now running on Middle Tennessee print, radio, TV, and outdoor advertising channels. In addition, direct mail and door hanger outreach, combined with digital marketing strategies, targets underserved populations throughout the area. Outdoor advertising can be seen at locations around the community.
Dr. Cunningham-Erves is an award-winning behavioral scientist who studies parent and adult views on COVID-19 vaccines while developing programs to promote informed decision-making. Dr. Davis is a scientist currently studying how and why some people develop diseases. Through his training in infectious diseases, he recognizes the need to quell confusion and convey essential information to help alleviate concerns around COVID-19 vaccines. Ms. Sanderson is behavioral epidemiologist with 25 years of experience conducting intervention studies among underserved populations. Dr. Brandt is a social and behavioral scientist who seeks to apply innovative approaches developed in partnership with diverse communities to address disparities.