December 11th, 2017

Blog Client News
Our clients, Watson Grove Missionary Baptist Church and Pastor John R. Faison, Sr. recently participated in (and launched) The National Faith Initiative (NFI) in support of The National Museum of African American Music (NMAAM). The Grove has been GROWING at a rapid pace, and with this growth, more opportunities for the church to be involved in the community – like NFI – have occurred.
Pastor Faison leads a dedicated group of faith leaders with NFI, actively recruiting other pastors to support NMAAM. The goal of the initiative is to rally support from the faith community for NMAAM, which broke ground in 2017 and is scheduled to open in 2019. The museum will be home to the "Oh! Happy Day" exhibit that will show the genealogy of Gospel music and its influence on other genres. The National Faith Initiative's main objective is to unite the faith and show support for NMAAM. Thanks to Watson Grove, Pastor Faison and NFI, the museum has been able to raise nearly $200k in annual commitments to support NMAAM, so far with additional work toward raising $2 million in commitments by the end of 2018.
Their role includes a financial pledge and cultivating other pastors and congregations, around the country, to participate with an annual financial contribution. The goal is to cultivate $2 million dollars over five (5) years, from members of the faith community to preserve and protect the history of Gospel music. It is important for the church – and people of God, to understand how important NMAAM is locally and nationally.
Local Pastors Bishop Joseph W. Walker, III (Mt. Zion), Bishop Jerry L. Maynard, Sr. (Cathedral of Praise),  Pastor Jerry Maynard, II (Southside Community) and Pastor William Green (Tabernacle of Glory) united to launch the initiative with a concert and choir workshop. The choir workshop, led by Richard Smallwood, prepared all participating churches' music ministries for the kickoff concert. Over 20 churches, two community organizations and Austin Peay State University sent representatives to attend the choir workshop, led by Smallwood.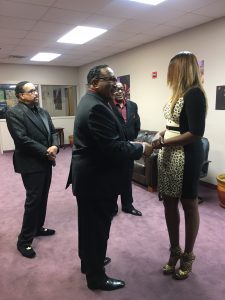 The kickoff concert, which was held on Sept. 16th at Mt. Zion Old Hickory Boulevard,  featured Dr. Bobby Jones, Richard Smallwood and Gospel powerhouse Yolanda Adams, joined by the Nashville Super Choir. The night was filled with great performances of some of the most revered Gospel songs,  including 'The Battle is the Lord's, Total Praise and Open My Heart – in support of NMAAM. Both Richard Smallwood and Yolanda Adams shared their excitement for the museum.
As Watson Grove and Pastor Faison look forward to National Faith Day in 2018 we are excited to continue supporting them and NMAAM. Pastor Faison has been making strides in North Carolina and Virginia garnering support from 20 new faith leaders in the area. We are thrilled to see Pastor Faison continue his efforts in leading this initiative.
Media coverage:
Stay On the Go Magazine: http://nashville.stayonthego.com/smallwood-adams-nmaam-concert/
The Tennessee Tribune: http://tntribune.com/religion/local-religion/6523/