December 21st, 2021

Blog Client News News
By: Emma Vondra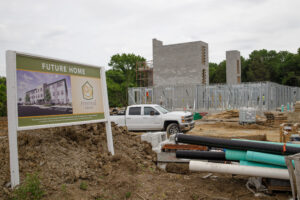 The month of May was pivotal for Renewal House Nashville as it took all they do for the community to new heights. Renewal House is a long-term substance use disorder treatment program for pregnant women, mothers, and their children in Middle Tennessee. Renewal House serves more than 500 women and children a year through all of its programs combined. The nonprofit helps women gain the skills to remain sober, give their children nurturing care, improve their physical and mental health, and secure employment.
In celebration of 25 years in operation, they hosted a beam raising ceremony to mark the start of their new expansion. This building is a 35,000 square foot facility with 34 apartments and will double the capacity of services to women and their children. 
From organizing rentals, script writing, and event logistics, the dGC team was able to play a pinnacle role in the event and be on site at this groundbreaking ceremony to help Renewal House make history. 
To learn more about all of the amazing things that Renewal House is doing for Middle Tennessee community head to their website at https://www.renewalhouse.org.