December 3rd, 2021

Uncategorized
By: Emma Vondra
2021 was a year of phenomenal growth for The Trap Music Museum as they opened their Nashville location "Escape the Trap." duGard Communications was thrilled to jump on board to help this business plant roots in a city rich in music history.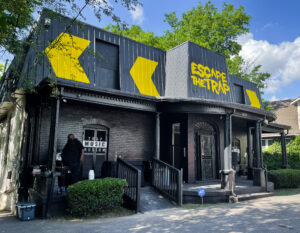 This unique escape room experience allows one to immerse themselves in Trap music history and culture while working their  way through a series of rooms, which also utilize live actors. This one-of-a-kind experience is the perfect team building experience for all people 18 years of age and older. 
James Miller, the SVP of Marketing for "Escape the Trap" Nashville explains that "Nashville has a diverse culture and history, but the city is just opening itself up to the idea of its musical, entrepreneurial and leadership landscape being more than what it has traditionally depicted." 
The Trap Music Museum "Escape the Trap" wants to work to continue the growth of Music City by bringing a diverse range of people together to learn about all that Trap music culture is. 
For more information on Escape the Trap head to their website https://escapethetrap.com.