September 28th, 2021

Client News

Joe Johnson and Friends Headline Event to Raise Money for the TSU Foundation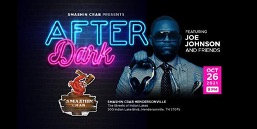 Nashville, Tennessee – (Sept. 28, 2021) – Smashin Crab Hendersonville announced today its official Tennessee State University (TSU) and Middle Tennessee State University (MTSU) Homecoming kickoff with the help of national recording artist and TSU alum Joe Johnson and Friends. A portion of proceeds from Smashin Crab After Dark will go to the TSU Foundation.
Only 200 tickets are available to attend Smashin Crab After Dark featuring Joe Johnson and Friends. The event features live music, a DJ, and Homecoming kickoff activities. General admission and VIP tickets include a complimentary Hurricane, Margarita or Sangria cocktail.
WHAT:            Smashin Crab After Dark featuring Joe Johnson and Friends

                        Live Music and TSU/MTSU Homecoming Kick-off Party

WHEN:            Tues., Oct 26, 2021, 9:00 PM CDT

WHERE:         300 Indian Lake Boulevard

Hendersonville, TN 37075

TICKETS:       $25 General Admission

                        $50 VIP

                        https://www.eventbrite.com/e/smashin-crab-after-dark-tickets-186977654197
About Smashin Crab
Backyard crab and crawfish boils are a way of life for those lucky enough to live near the plentiful Gulf. Since forever, Smashin Crab connects with the land and sea to appreciate the delicious bounty available to us. Smashin Crab continues this tradition every day. Walk through the doors and you're greeted with the smells and feel of home! Smashin Crab helps you relive or create memories of Mardi Gras parades and your grandma's gumbo while listening to Second Line Brass Bands and Zydeco tunes. We're bringing the good vibes all day long!